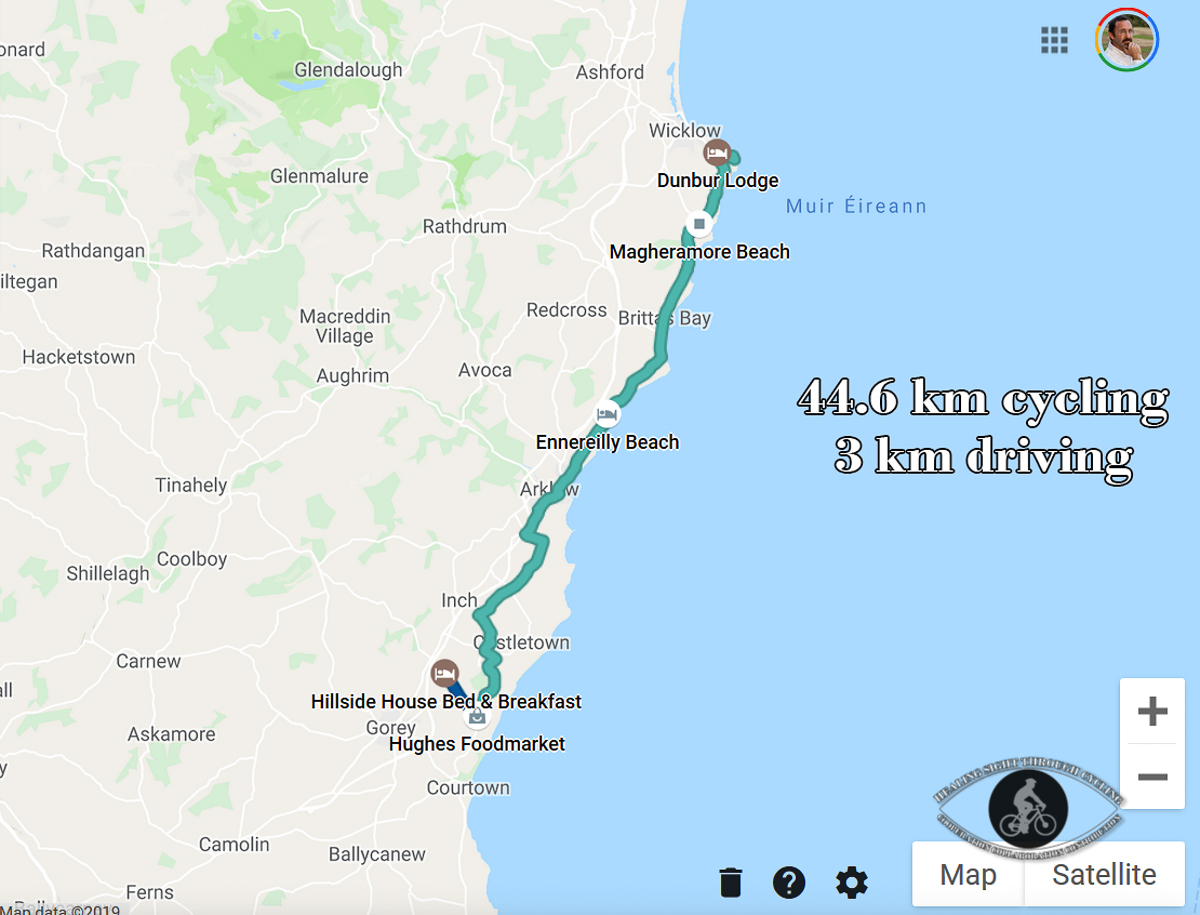 Day 4 - Sunday June 16th '19
I left Wicklow this morning after resting up for the Sabbath into a little bit of rain.
Within about 10 minutes of getting on the road, the skies cleared partially and I felt the glorious sunshine soaking into my skin. For the next 45 minutes, the clouds fought back, with the sun only being able to make brief advances. It truly was a battle to behold. Unfortunately, I was just a pawn in the bigger game, with neither side worrying about what I wanted. That first part of my cycle was into strong, cold oncoming winds, with patches of sunlight scattered like jewels among the detritus. But at least I had the occasional warmth from the sun.
I got to Ennereilly Beach in County Wicklow with the sun still trying it's best to shine through, but within 5 minutes of parking my bicycle, the cloudy skies made a rally, and won the day. The heavens opened up and stormed the beach.
But that was just fine with me, as it gave me some great photo opportunities. My poor wife was trying to talk to me during the onslaught, but between trying to take photos, and not get my camera equipment messed up in the rain, and trying to focus on my wife, it turned out to be too much, and my wife agreed to talk to me later. Wrong move. That was definitely not fair to my poor wife who has given me her blessing to be out here. It's just not worth it if it separates you emotionally from your loved ones. Next time? Cameras away, talk to the wife. Another lesson learned.
I got back on my bicycle and carried on cycling narrow country roads into the rain, the freezing wind, and the hills that just never seemed to stop. I had to get off and push my bicycle uphill twice. Even going downhill, was a struggle, and I thought it was because of the wind in my face. But, more of that later.
I crossed over from County Wicklow into County Wexford with no fanfare. In fact, without even realizing I had crossed over at all. Who knows, the trumpets could very well have been playing, but with the wind in my ears, I heard naught but the rushing sound of air.
I was headed to a campground in County Wexford and kept looking at my Google Maps. Just another 58 minutes to go. Just another 30. Just another 3. And arrived with a dead battery, and aching legs to find out it wasn't a campground, it was a public park. So much for my carefully researched campground.
I limped up to a store called Hughes Foodmarket, and asked if anyone knew of a campground in the area. The people looked at me a little askance. After all, I arrived washed out and bedraggled, looking like a cat that had narrowly escaped being drowned, and as if the cat was asking where the nearest river was. No wonder I got a few strange looks from the clients in the store. In true Irish fashion, I was asked, You still want to go camping in this weather? As if they were saying it's not our place to ask, but are you daft?
The proprietor of the store immediately jumped into action and asked if a B&B wouldn't be a better idea, and at that point, I was pretty desperate, so I said "absolutely!!" The gentleman introduced himself as Bryan Hughes, the owner of Hughes Foodmarket in County Wexford , and called a B&B that he knew in the area. They had a vacancy, so he asked them to hold it for me and told them I was on my way. At which point, he told me it was only about 3 1/2 miles up the road. So, with a little trepidation and a hitch in my voice, I asked if it was up the road, as in uphill the whole way? Knowing that if it was, I would be pushing my bicycle and trailer with a dead battery, the entire way. Seeing the desperation flit across my face, Bryan asked me what the problem was, and I explained the issues and that I would be pushing my bike the whole way there. He was silent for a second, and then said, "why don't we give you a nice cup of tea first, and then we can figure it all out". I was only too happy to get a warm drink in me, so I very happily agreed.
While drinking my tea, Bryan told me that he was running home to pick up his trailer and that he would give me, my bike and my trailer a ride to the B&B. I was flabbergasted, and couldn't believe his kindness. So, off he went, and while he was gone, I was speaking to Lauren, the very sweet young lady manning (or is that womaning) the counter, who was the same age as some of my children. She was very sweet and told me about her trip to New York and Boston last year, and her wish to travel more. Because after all, buying things just gives you possessions that you don't really use, but traveling gives you memories and experiences that you'll always have.
A few minutes later, having just finished my tea, Bryan pulls up in his jeep and trailer and we load my gear into the back of the trailer.
Not more than 5 minutes later, we were warmly welcomed by Anne at the B&B, Hillside House Bed and Breakfast in Tuberduff, Gorey, Co. Wexford.
So, with aching muscles and bones, soaked through my rainsuit, I stripped the bicycle of all my gear and took it upstairs to my room.
Then I went to the cart, and as I was about to start taking things off, I see that one of the walls is pushing up against the wheel. Acting like a break. One of my bags had shifted, and pushed the wooden wall against the wheel. Who knows how long that was like that, all I know is, that was the reason it was so hard for me to pedal, even downhill. So, another lesson learned (I expect to learn many on this journey) is if things feel more difficult than they should, they most probably are.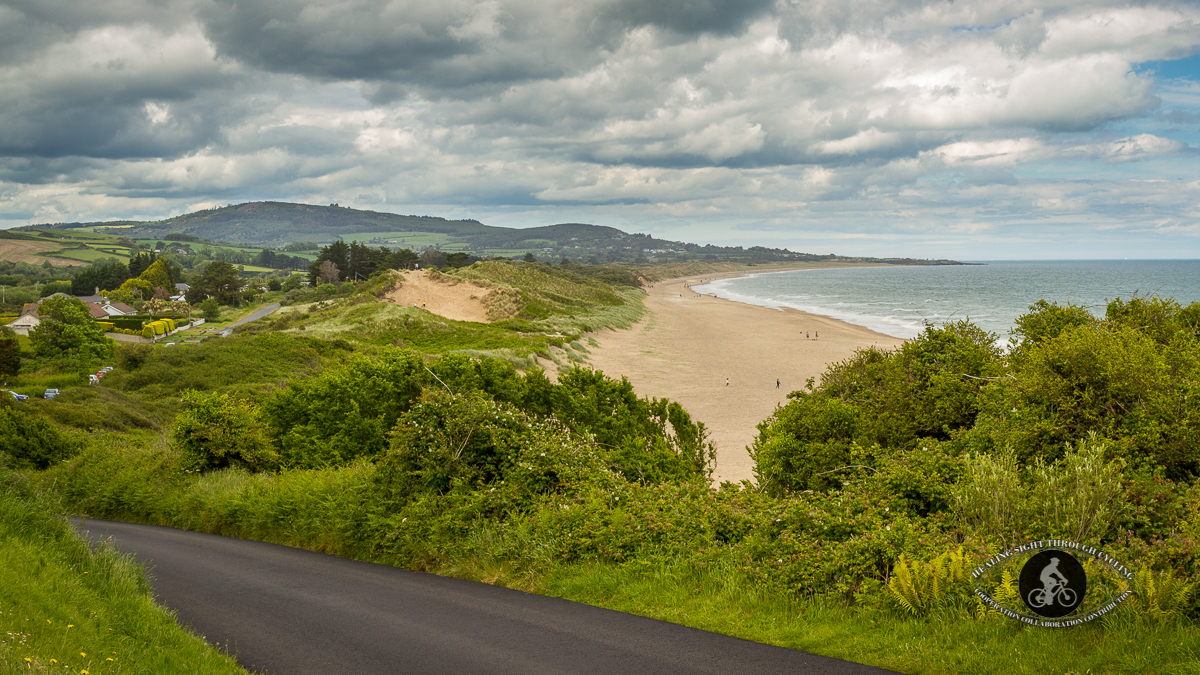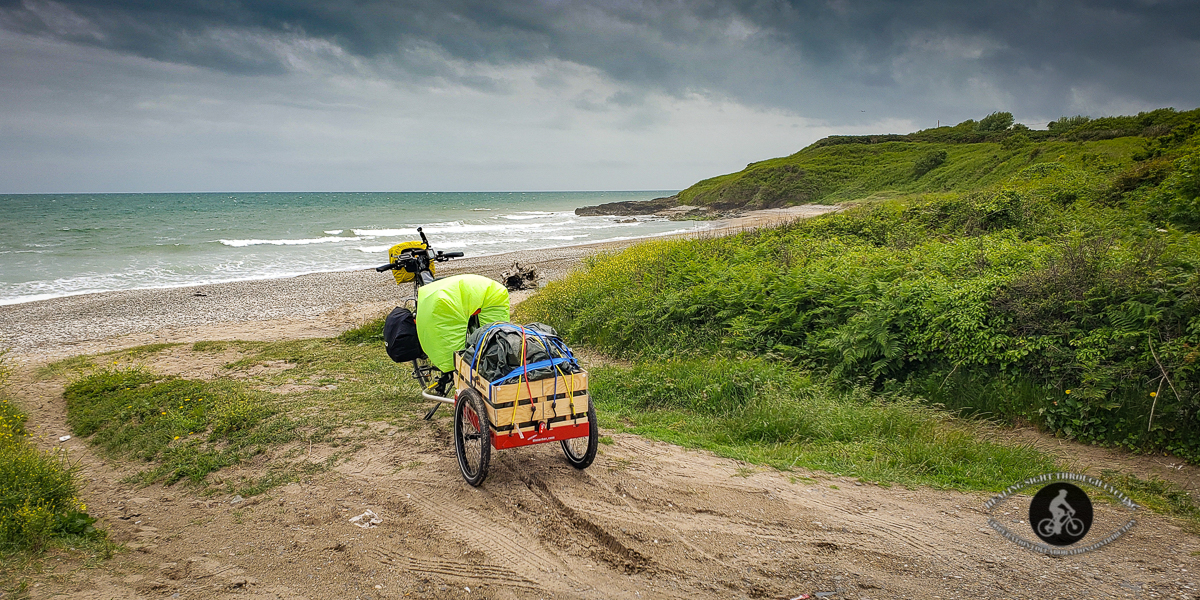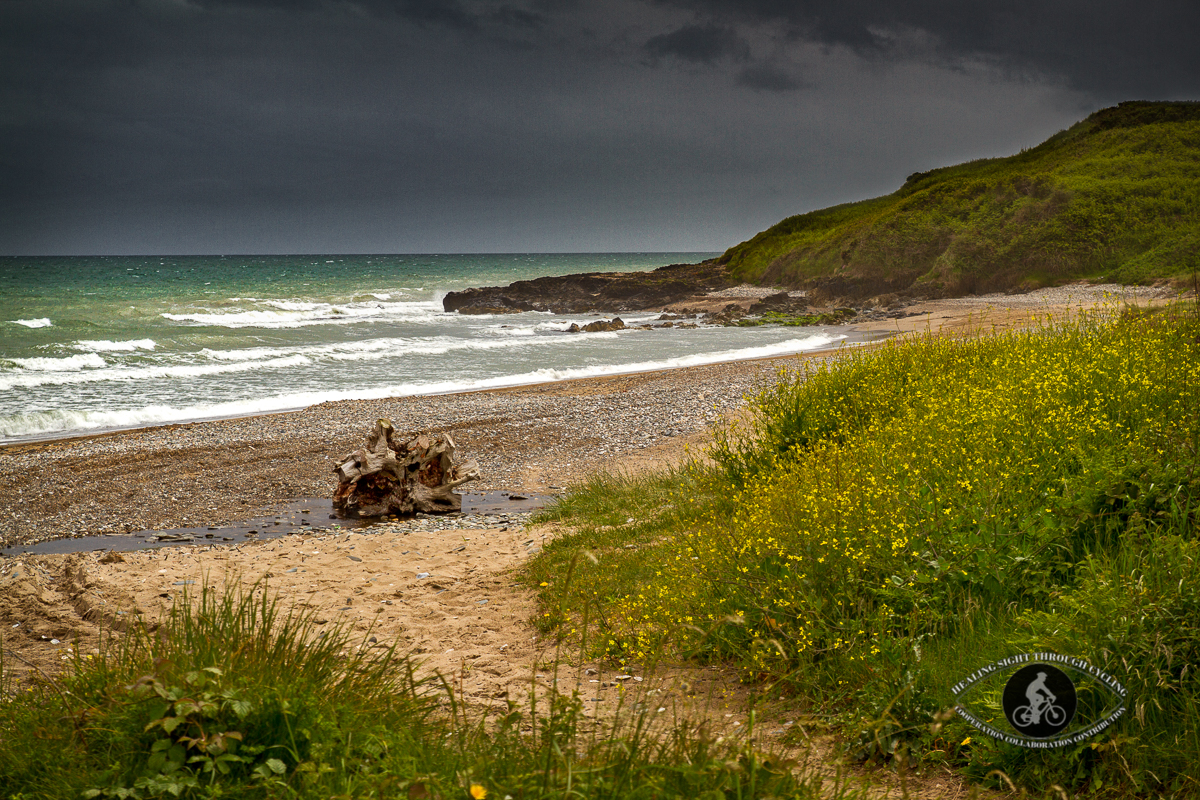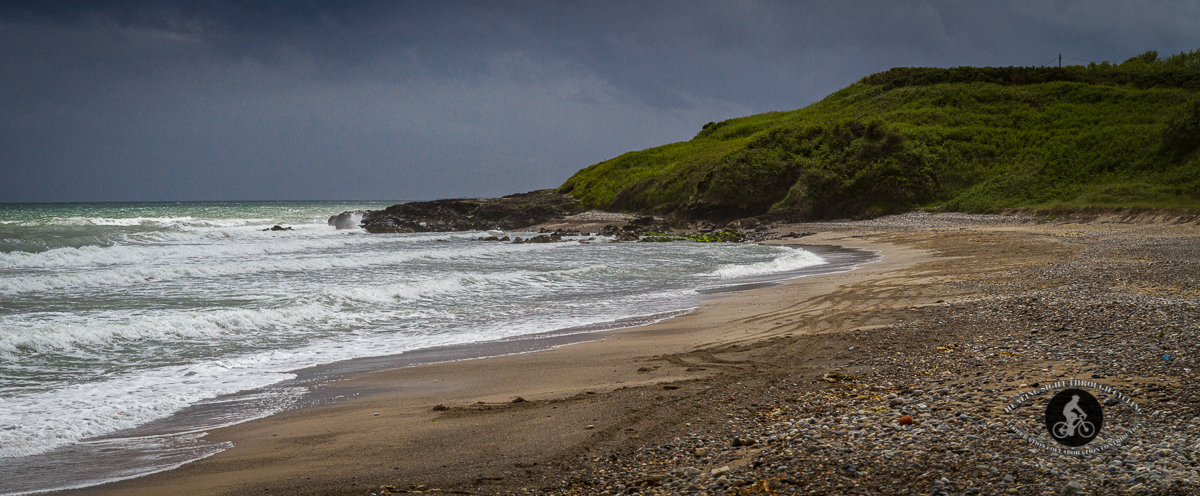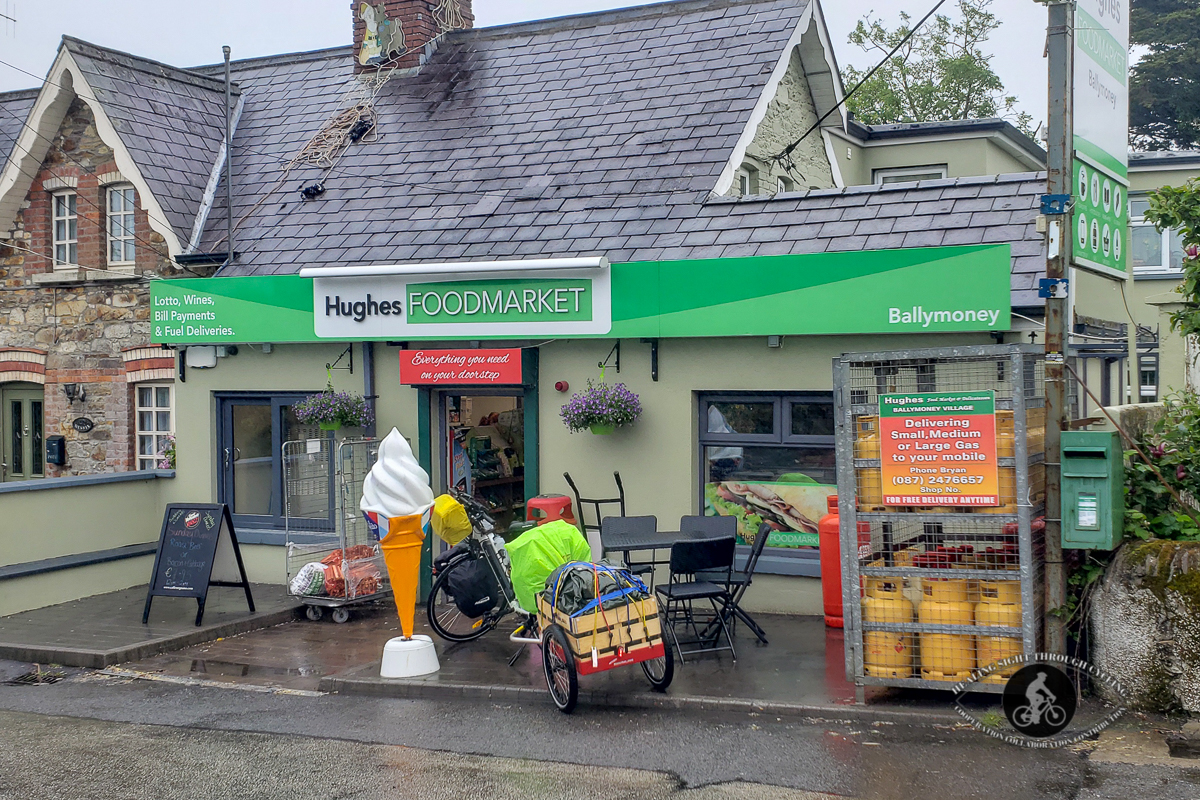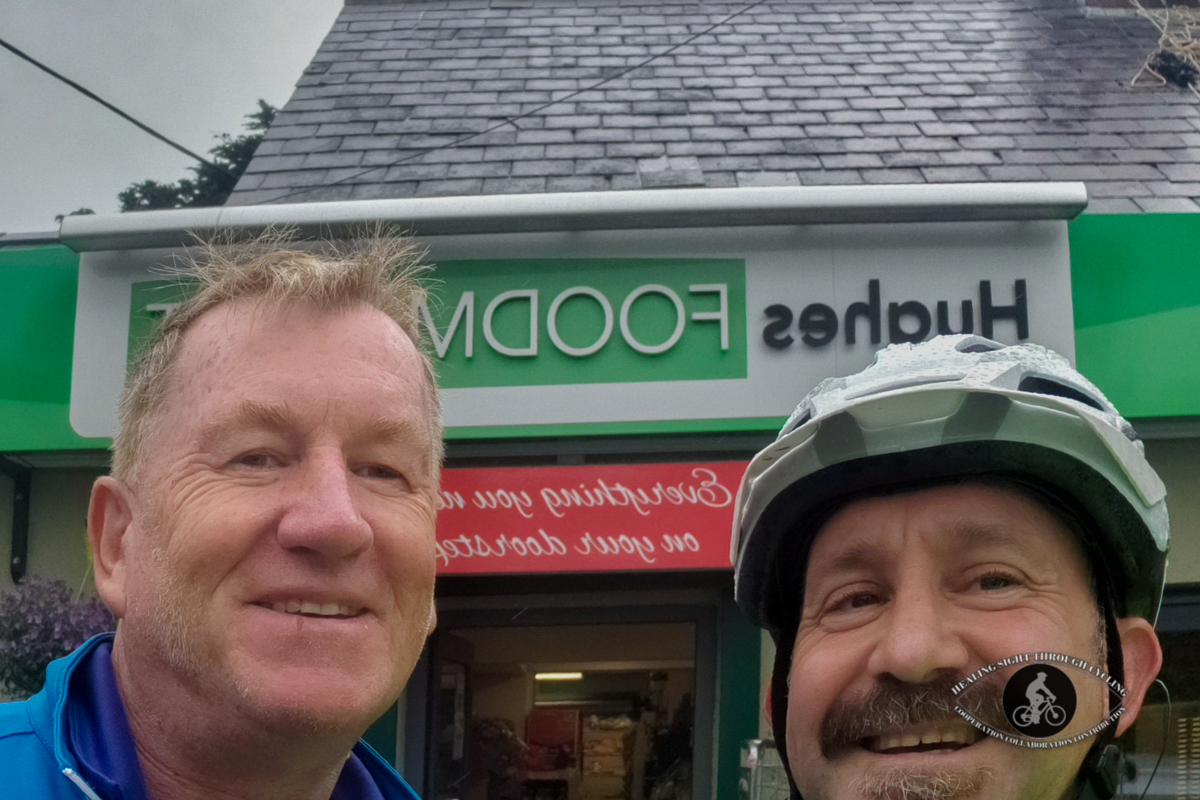 Please follow and like us: